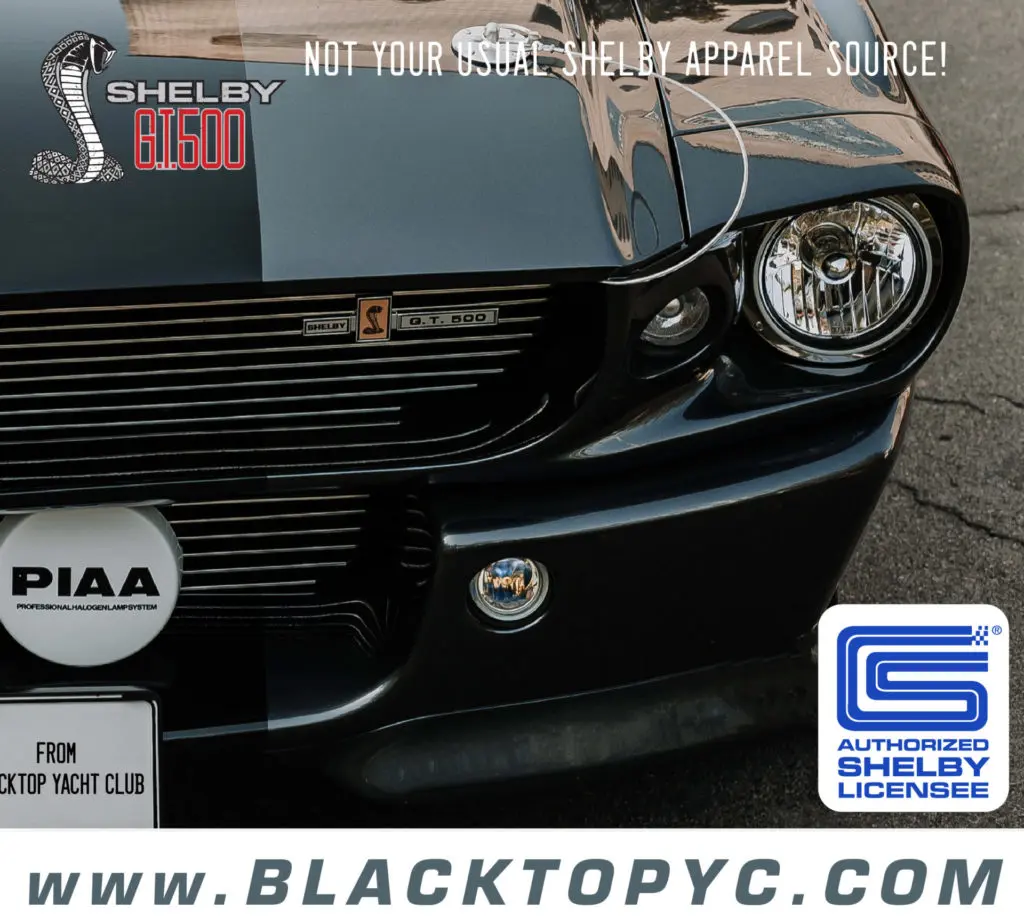 Team Shelby Northeast is at it again, and we are celebrating our Shelby history for our 2021 event. This year's event has an overriding theme that will weave its way through the weekend. Join us as we recreate the thrill of the "Carroll Shelby School of High Performance Driving!"
The event starts Thursday, June 3rd with a day of High Performance Driving on what is known as The Tricky Triangle….Pocono Raceway! We have secured the North Course, which incorporates portions of both the infield AND the tri-oval, for two track experiences in one event! The course is 1.5 miles long and utilizes the north infield road course as well as turn three of the tri-oval. The track has nine turns and two straights, the longest being approximately 1700′. Track operations will be managed directly by Team Shelby Northeast, to ensure a professional and safe experience. Representatives from Shelby American are scheduled to be in attendance, as well as other special guests and manufacturers, including Carroll Shelby Racing.
To recreate the 1960's Shelby Driving School experience, we have joined with the Ford Performance Racing School. Currently located out of Charlotte Motor Speedway, NC, and formally in Miller Motorsports Park, UT. Ford Performance Racing School, the only school to wear the Ford oval, offers unparalleled, exhilarating on-track driving instruction for every performance driving enthusiast, regardless of skill level or goal. All Ford Performance Racing School classes are conducted by highly-trained, race-experienced professional instructors.
If you just like hanging out at the track and watching, that's fine too. We will host a car show in the infield, stage an on-track group photo, and take a parade lap or two. If you're looking for something a little 'speedier' than a parade lap, but not quite the all out high performance driving experience, we will offer the opportunity for a touring lap session. You will experience your car's power on the straights, but we will keep it to a moderate pace when it gets to the turns so that no one gets pushed past their comfort zone.
The Ballroom at the Mount Airy Casino will be the venue for our Thursday evening Happy Hour and Banquet. There will be a few short presentations and items on silent auction, but the main focus of the evening is camaraderie and bench racing with fellow Ford/Shelby enthusiasts.
Friday morning has us departing Mount Airy for a Poker Run through the Northeastern portion of Pennsylvania. We currently plan on stopping for lunch and touring Yuengling Brewery, the oldest brewery in America. There will be a few scenic photo-ops, as we wind our way towards Carlisle, PA., to join in the Carlisle Ford Nationals. Will there be a Grand Entrance this year, and will you be part of it?
Our Friday night dinner and the "Cars Under the Stars" car show will be held at a new location on the historic estate of John Williams (nationally registered). We will once again be in a rustic barn setting and will share a traditional Thanksgiving Day menu to celebrate the family that Team Shelby truly is. Similar to last year, a happy hour will precede our dinner program. This gives you time to have a few appetizers and cast a ballot for your favorite cars before we move upstairs in the Barn for the remainder of the evening. The dinner program will include reminiscence of the Carroll Shelby School of High Performance Driving, history on some of the historic cars and drivers associated with the school, updates on the latest that Shelby American and Ford Performance has to offer, as well as auction items to benefit the Carroll Shelby Foundation.
Saturday morning is relatively free for you to enjoy the Carlisle Fairgrounds. The Team Shelby Club Tent and lounge area will be open throughout the day for you to catch some shade and rest your feet. Lunch will be provided in our Club Tent, and we present our awards to the winners of Friday nights "Cars Under the Stars" car show. In the afternoon, check out the Ford display tent which showcases all the new Ford cars and trucks…and don't forget to pick up your free Ford T-shirt while you are there.
In lieu of the Downtown Parade, Team Shelby will be continuing to celebrate our family theme by returning to our tent on the show field for dinner and games. Lets call it "Cookout and Cornhole". To further celebrate the bonds that make up Team Shelby, we will have a family style backyard cookout with hamburgers, hotdogs, potato salad, and all the fixins' you would serve to your friends and neighbors. After dinner we can play a few games and relax for a moment, but wait, we're not done yet……
If picnic games aren't your 'cup of tea', then join us for "Autocross and Ice Cream" down at the Carlisle Autocross track for something that involves a little more horsepower. Team Shelby, and select invitation only guests, will have exclusive use of the Autocross track on Saturday evening. Let's see if the knowledge you learned when we recreated the "Carroll Shelby School of High Performance Driving" up at Pocono can be transferred to the course at Carlisle. Instructors will be available for novice students, and thrill rides with your favorite drivers can be arranged. Enjoy some ice cream while you watch the fun, and hopefully to celebrate your autocross victory!